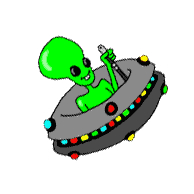 UPDATE 7/30/2014
We will be open This Friday (8/1/2014) one way or another. Even if the KDHE inspector isn't satisfied, and says we can't serve food, we will be open in the evening for games only, until we can relocate.
More on the relocation......we have found a potential location HERE IN PARSONS that would be perfect. We have gone to look at it, and liked what we saw. Now to make arrangements.
Prayers and good thoughts are always welcome. If you would like to purchase a TOKEN CARD ($10 in game tokens) all proceeds will go towards relocating and fixing up the new location. You can purchase them on our website or stop in at Steve's Lock Out, 1806 Main.
---
We are so glad you are here.
While you visit Cosmic Castle you can interact on our web page and view our current menu without using data or getting a wifi password. If you are visiting, you can access the internet by clicking on the link to the right.

Want to Play Tic Tac Toe with the Aliens
Who is Emperor Xyludrian?
Try Dr. Fla Vore's Cosmic Soda Flavor randomizer
View our Calender of Events

Business Hours:
Sunday 2:30pm - 9:00pm
Monday Closed
Tuesday - Thursday 11:00 am to 9:00 pm
Friday - Saturday 11:00 am to 10:00 pm
UPDATE 7/26/2014
You guys are awesome! Many of you have stopped in to talk with us. We appreciate you thinking/worrying about us! We don't like being closed any more than you do. In the nut shell, there are issues with the building that the Health Inspector doesn't like, so we are working on getting those issues resolved. This takes time, as it all has to go through the Bank, that is the overseer of the building.
Before it goes too far, YES we are seriously looking for another location. Available buildings in Parsons that have enough space and parking that would work for us are far and few in between. We WOULD like to stay in Parsons and do have a couple possibilities that we are currently checking in to. Prayers for the current situation and for the future of Cosmic Castle are most appreciated. We won't leave you guys hanging.....you will know when and what and where as soon as we do.
Currently we are hoping (cross your fingers) to be able to reopen the middle or end of next week. If not, we will let you know.
---
We are linked with the following sites that offer even more Family Fun